How can We make Joomla better for SEO?
Joomla has something called SEF (Search Engine Friendly URL's) that turns complex url's into easy to understand ones.
Google doesn't care now anywhere, so SEO is not SEF.

Keyword Use in Title Tag (4.9)
Global Link Popularity of Site (4.5)
Anchor Text of Inbound Link (4.4)
Link Popularity within the Site's Internal Link Structure (4.1)
Age of Site (4)
Topical Relevance of Inbound Links to Site (3.9)
Link Popularity of Site in Topical Community (3.9)
Keyword Use in Body Text (3.9)
Global Link Popularity of Linking Site (3.7)
Topical Relationship of Linking Page (3.6)
Source:http://www.seomoz.org/article/search-ranking-factors
Concentrate on creating relevant titles for your articles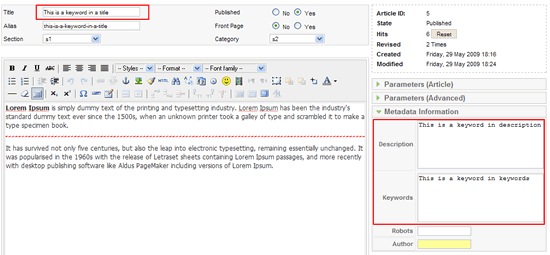 This will mean your pages have a strong foundation for SEO and will be accessible and usable.